This pillar of activity aims to offer social support to beneficiaries and to increase knowledge about their rights as well as access to available services. This assistance will be provided in pre-established good-neighbor clubs, facilities of local partners as well as in other public facilities (primary schools, centers of culture, etc.).
Inclusive workshops will primarily be conducted by the so-called inclusive teams consisting of social mediators, pedagogical assistants, psychologists, teachers, educators, professionals working with children/teenagers, etc. The curriculum for the workshops will be prepared by experts from the educational and social welfare system, who will directly be responsible for the implementation of the workshops. The curriculum will be completely compatible with the formal educational curriculum in order to provide easy conversion of the returnees towards inclusion into formal education.
The impressive result of the previous project is more than 900 workshops for more than 1,900 children in Novi Pazar, Tutin and Sjenica.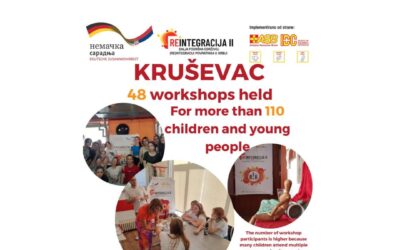 Through various workshops and creative activities, inclusive workshops have become an essential place for education, expression, and community building in Kruševac and its surroundings. The workshops are organized at the Dobrosusedski klub Kruševac (Youth Club) and...
read more