Through various workshops and creative activities, inclusive workshops have become an essential place for education, expression, and community building in Kruševac and its surroundings.
The workshops are organized at the Dobrosusedski klub Kruševac (Youth Club) and other suitable spaces, covering four thematic areas:
Art Workshops:
Visual art is a universal language that can be understood worldwide. Within the project, art workshops offer children and young people the opportunity to express their emotions, develop creativity, and explore their talents. Through this expressive process, children create artworks that reflect their stories and experiences, helping them connect with their identity and environment.
Health Workshops:
Health is a fundamental element of well-being, and health workshops include knowledge of first aid. Young people learn basic skills that are useful in everyday life and emergency situations. This knowledge is not only beneficial for themselves but also for the community they live in. Through practical exercises and simulations, children gain confidence and the ability to help others in need.
Digital Workshops:
In today's digital age, digital skills are crucial for successful integration into society. Digital workshops provide children and young people with the opportunity to develop skills in working with computers, the internet, and digital tools. These skills are essential for future education and employment, opening doors to numerous opportunities and potential.
Drama Workshops:
These workshops allow young people to explore the world of acting and expression. Through role-playing, improvisation, and group performances, children develop their creativity, communication skills, and self-confidence. The performances prepared by Inclusive #reradionicari are not only an expression of artistic expression but also an opportunity for young people to connect with the audience and share their stories.
In addition to these individual workshops, the project "Reintegration II – Further Support for Sustainable (Re)integration of Returnees in Serbia" also promotes mutual understanding and friendship among participants. Through teamwork and socializing, children develop skills that will help them better integrate into society and build lasting relationships with peers.
Through these activities, the project in Kruševac creates a space for the development, learning, and expression of children and young people, regardless of their background or life circumstances. Inclusive #reradionice become a bridge that connects different communities and promotes social harmony and development. In this way, we set an example of how creativity and education can build a better future for all.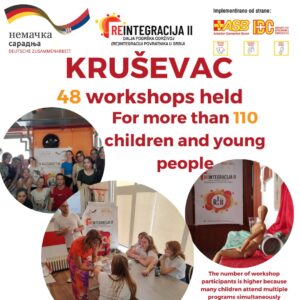 The project is led by ASB (Arbeiter-Samariter-Bund), with the implementing partner being the Initiative for Development and Cooperation (IDC). The beneficiary regions in the project are the Pirot, Rasina, and Raška districts. The project is funded by the German Federal Ministry for Economic Cooperation and Development (BMZ) and is set to continue until April 2025.