**text taken from the ASB website**
Interview with the beneficiary of the previous phase of the project "Reintegration II – further support for the sustainable (re)integration of returnees in Serbia"
Marija is a speech therapist from Novi Pazar, he is 33 years old and is also a wife and mother of two children, and a woman who runs her own business. Immediately after graduation and internship in Belgrade, Marija started working with children in her hometown. Novi Pazar is a city known for its high birth rate, where the average family has 4-5 children. Already in her early working years, Marija recognized the need for a speech therapist and developmental therapist as a long-term business opportunity.
So far, Maria has helped more than 1,800 children and adults in her small but colorful and comfortable studio. The problems he deals with are different: speech problems, autism, mental disorders, hearing impairments, pronunciation of sounds, attention disorders, difficulties in reading and writing, etc. Maria also has extensive experience in supporting adults after stroke.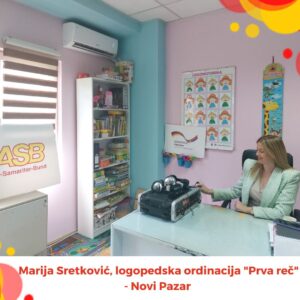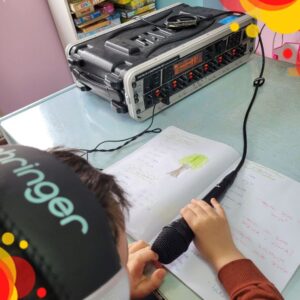 "The family is the most important factor in the early detection of problems in children. Parents, due to the lack of time and modern lifestyle, have less and less time to work with children, so the child's speech is "built" through the phone or TV, games, which results in an increased number of children with developmental difficulties," says Maria. . Statistics in Serbia show that 80% of children who enter first grade at some point needed or still need some kind of help from a speech therapist.
Within the project "Reintegration – support for the sustainable (re)integration of returnees to Serbia", Marija received a grant for self-employment, a digital speech therapy set. We can proudly say that more than 40% of the project beneficiaries are women and that strengthening the female entrepreneurial spirit is one of our long-term tendencies.
"Working with children is my vocation, it's what makes me happy every morning," says Maria and continues: "The grant helped me a lot, it was a favorable wind at the back and back of my little patients." The digital speech therapy set is a machine that processes the sound spoken by the speech therapist and adapts it to the patient's brain, so that the time required for the treatment is significantly reduced, and the treatment itself is much more efficient. Thanks to this support, we can now offer affordable, high-quality treatments to patients in Novi Pazar and the surrounding area."
Marija is the first therapist who owns this kind of machine in Novi Pazar and one of the few in Serbia. Many families in Novi Pazar today are lucky to have Maria in their circle of support. We are especially happy when the support we provide within projects reaches the right people and has a positive impact not only on the well-being of the individual, but on the entire community.