In front of you is the updated edition of the "Catalogue of available support intended for returnees to the Republic of Serbia" which is being prepared as part of the global program "Migration for Development" implemented by the Deutsche Gesellschaft für Internationale Zusammenarbeit (GIZ).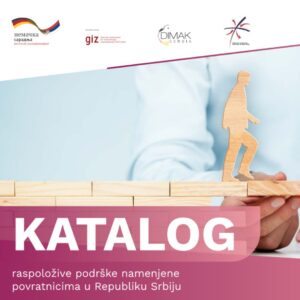 The program is part of a broader initiative of the German Federal Ministry for Economic Cooperation and Development (BMZ), which promotes the sustainable reintegration of returnees and their stay in their home country by creating opportunities for dignified work and life in it. The catalog is intended for counselors working on the reintegration of returnees without an adequate perspective for staying in the countries of the European Union, according to the Readmission Agreement. It contains an overview of different forms of support aimed both at returnees based on the Readmission Agreement and at all other returnees to the country.
The entire Catalog is also available in the form of a digital application for smartphones (Play store: RE:INTEGRATE Serbia). The updated version is published twice a year in order to respond in a timely manner to relatively frequent changes in services that are available both through the official institutions of the Republic of Serbia and within the activities of civil society organizations in Serbia.
German development cooperation has been supporting Serbia for many years in creating opportunities on the spot for the population at risk of poverty and, therefore, irregular migration, through various projects implemented by GIZ, but also a large number of civil society organizations, as well as partners in the private sector, among which the most important are those in the sector of transport, gastronomy, care of the elderly, accounting, seasonal jobs.